Glamping (glamorous camping) is all the rage all of a sudden.  Companies like UnderCanvas.com have successfully raised venture funding and are doing a terrific job of providing a top notching glamping experience for their clients.   Geronimo Solutions is now able to feature several terrific glamping options for your next silent auction event and those are provided by UnderCanvas, the leader in glamping.   Consider glamping in Zion, Mt. Rushmore, Smoky Mountains or other terrific locations.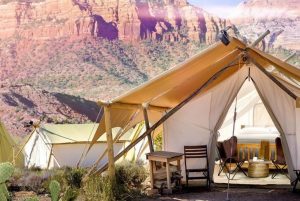 More than 300 new non-profit each month are grabbing first class promotional materials (videos, flyers, high resolution photos) and displaying those to eager donors at their live auction events.  Each non-profit is creating a free account at TravelPledge.
Non-profit fundraisers are able to promote flexible vouchers that can be applied towards glamping adventures or they can promote specific trips to specific glamping destinations.    We've witnessed several auctions where one supporter RAVES about their glamping experience and this helps motivate all of the other supporters in the room to increase their bids on the glamping experience.  Non-profits are encouraged to get their account at TravelPledge asap so that you have access to these great trips for your next fundraising event.